Fear Agent joins DHP's online lineup, thanks to the efforts of Rick and our buddies Kieron Dwyer, Hilary Barta, and John Rauch!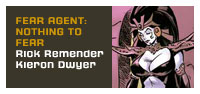 the story's called Nothing To Fear and begins in DHP 03.
Go check it out!
and if you're already a Myspace member, add the official Fear Agent profile as one of your friends, and help spread the word!